What is an IP Network Camera?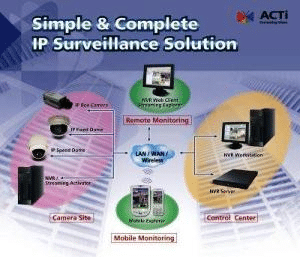 A Network IP Camera is a stand-alone device which allows a user to view live, full motion video from anywhere on a computer network, even over the Internet, using a standard web-browser.
Until very recently, video security and surveillance was accomplished using Closed Circuit Television or CCTV. This technology included analog cameras, coaxial cable and video tape recorders. Video security and surveillance started entering the digital age with the advent of CCD sensors which digitized image capture in the camera. However, transmission was still analog via coax to analog VCR's. The next step was the introduction of Digital Video Recorders (DVR's) connected directly to analog cameras, which made storing, searching and retrieving video much more efficient. PC's were then introduced for display of the images through a modem or network connection to the DVR.
The entire system has now been digitized with the introduction of Network Cameras incorporating onboard processors and web server software. These Network Cameras can be connected directly to existing IP networks, eliminating the need for separate and expensive coaxial cable networks. Images can be viewed and cameras managed from anywhere via a web browser, plus any hard disk on the network can be set up to record the video output.
See How IP-Based Video Surveillance Works »
See The General Benefits of Network Camera Technology »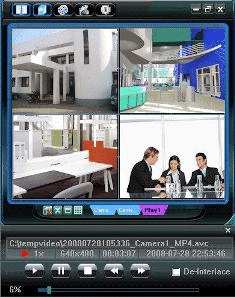 Another significant technology called Video Servers, allow existing CCTV installations to gain the benefit of Network Video, while protecting investments in analog cameras. Video Servers connect to IP Networks and convert the signal from analog cameras to digital format. Like Network Cameras, Video Servers contain onboard processors and web server software that makes each camera IP addressable. Essentially, Video Servers turn CCTV cameras into IP Network Cameras.
Panasonic i-Pro Leads Growing Market For
IP-Based Systems
Panasonic Security Systems, a leader in professional video surveillance and security systems for 50 years, has further enhanced its industry renowned line of i-Pro intelligent and professional network products with the introduction of several new models.
Applications: What can you do with IP network cameras?
Remote operational monitoring
Network cameras are often used by companies for monitoring their core operations. Examples are:
Sensitive and high risk areas – Network cameras give remote visual access to critical areas such as server and machine rooms, warehousing facilities and storage areas.
Production lines – Network cameras are used to remotely monitor automated production lines and factory floors.
Health & safety – The (increased) responsibility of employers for the health and safety of their staff has made many companies decide to use cameras to monitor that the employees' activities and behavior are in line with company health and safety policie.
Lone worker – Remote monitoring of lone workers in small retail outlets, such as patrol stations, chemists and off licenses add to the comfort and piece of mind of both employer and employee. An automated visual alarm would allow a manager or a colleague in another location to act swiftly in case of an incident or emergency.
Activity – Network cameras are used to monitor activity and activity levels on a remote location. For example, cameras are used to gain information about in-store customer behavior, the number of customers visiting a store or to see how busy the car park is.
Access control – Network cameras allow access to buildings and premises to be controlled by security staff based on a remote location. One person would be able to manage multiple remote locations.
Hazardous areas – Hazardous areas with restricted access to humans, such as for example container terminals and chemical processing plants, can be fitted with network cameras to enable monitoring of operations and processes from a remote and safe location.
Visual alarm verification – Whenever an alarm is raised (e.g. a fire, smoke or intruder alarm), network cameras allow instant 'visual verification' of the incident. This visual information can be made available to any authorized person, assuring that the correct action is taken within the shortest possible time frames.