SIP Trunking line converges voice and data onto one pipe, providing seamless access between the Internet and the worldwide PSTN (Public-Switched Telephone Network), resulting in immediate cost saving.
With SIP Trunking the IP Network provides PSTN connectivity. A call travels the majority of its path over the network instead of on the PSTN and then drops back down to the destination/facility at the last mile. By implementing as a carrier, traditional local and long distance charges decrease dramatically because the call travels mostly over the IP network and not on the PSTN.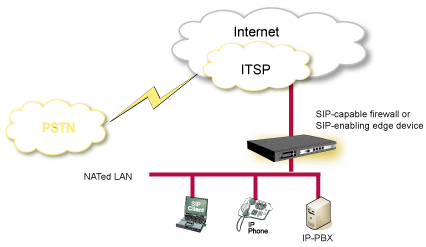 There are three components necessary to successfully deploy SIP trunks: a PBX with a SIP-enabled trunk side, an enterprise edge device understanding SIP and an Internet telephony or SIP trunking service provider.
The PBX
In most cases the PBX is an IP-based PBX, communicating with all endpoints over IP, but it may just as well be a traditional digital or analog PBX. The sole requirement is that an interface for SIP trunking connectivity is available.
The Enterprise Border Element
The PBX on the LAN connects to the ITSP via the enterprise border element. The enterprise edge component can either be a firewall with complete support for SIP or an edge device connected to the firewall, handling the traversal of the SIP traffic.
The ITSP
On the Internet, the ITSP (Internet Telephone Service Provider) provides connectivity to the PSTN (Public Switched Telephone Network) for communication with mobile and fixed phones.
While everyone can agree that a great benefit of SIP Trunking is a typical cost that is 40 – 70% below what legacy Telcos can offer, the features that enhance functionality and scalability and resolve issues related to large-scale enterprise deployments are the major features associated with SIP Trunking. Some of the features of the product line include:
Unlimited local as well as toll free, nationwide and international calling
Inbound call balancing over multiple locations supports large call centers
Provides business continuity and disaster recovery
Utilize existing equipment
Eliminates multiple carriers
PSTN origination/termination
24/7 Network Operations Center
Offers flexible configuration options
Unleashes the full potential of your IP PBX
Operates with legacy CPE through a simple VoIP gateway to deliver IP benefits to existing PSTN equipment