Mobility with IP Video Surveillance
September 21st, 2017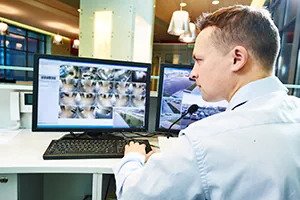 If you're tired of the limitations that DVR and CCTV cameras bring, it's time to make the jump to IP video surveillance. Instead of having to keep cameras close to a dedicated security room or computer, you can place cameras anywhere throughout your facility and broadcast the video images digitally over a LAN line.
Our IP surveillance systems are designed with mobility and security needs in mind. NuSound can customize a surveillance network to meet your security needs. That includes special software for video analytics, recording, and transmission of digital images worldwide. You can remotely access a live or recorded feed through any internet connected device over a secure IP connection. This lets you monitor sensitive equipment, controlled access areas, and customer activity without having to be on-site yourself.
Think of all the time saved. If an alarm goes off, instead of driving out to your factory or office, just connect with your smartphone to the live feed. That way you can check whether there is really an emergency or a false alarm and take the necessary actions.
Our lives are becoming increasingly mobile – and so are our video solutions. Learn more about our IP Network cameras today and be sure to reach out to us if you have a question.
Posted in: Solutions